Did I mention I am good at cooking too? Well, I am... or I like to think I am. I think the makings of a good cook come when people start to ask you for your recipes. The problem with that is, I don't like to follow recipes. My grandmother likes to say it's because we are Italian, and that's the way we're supposed to cook. The only time I ever really follow a recipe is if I am making something out of a box, or I am baking. I haven't quite figured out how to bake without reading some sort of directions. Maybe that talent will come in time. Here are a few of my recent yummy dishes :)
Fruit Topped Cookie Pizza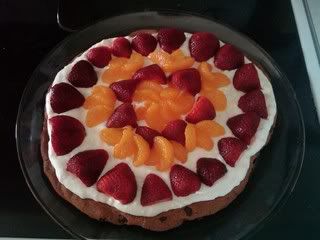 1 package of chocolate chip cookie dough (18 oz)
2 squares of white chocolate for baking (1 oz each)
2 tbsp milk
1 package of cream cheese (8 oz)
1/4 c of powdered sugar
1 c of thawed, frozen whipped topping
12-16 halved strawberries
1 can of mandarin orange sections (11 oz)
1/4 c semi-sweet chocolate morsels
1 tsp vegetable oil

Preheat oven to 350 degrees. Shape cookie dough into a ball and place in the center of a pizza pan or stone. Using lightly floured roller, roll dough to a 12-in circle, about 1/4 in thick. Bake 12-15 minutes or until edges set. (Cookie will be soft. Do not overbake.) Remove from oven; cool 10 minutes. Carefully loosen cookie from baking pan or stone and finish cooling completely on pan or stone.
Place white chocolate and milk in bowl. Microwave on high 1 minute; stir until chocolate is melted and mixture is smooth. In a separate bowl, combine cream cheese and powdered sugar; mix well. Gradually stir in white chocolate mixture; mix smooth. Fold in whipped topping. Spread cream cheese mixture evenly over cookie.
Arrange strawberries and mandarin oranges over cream cheese mixture in circles. Place chocolate morsels and vegetable oil in microwave dish and cook uncovered on high for 30 sec. or until chocolate is melted and smooth. Drizzle over fruit. Refrigerate at least 30 minutes before serving.

Serves 16
**I found this recipe in a magazine. It is not my recipe, but it's DELICIOUS!! So I had to share.
http://www.food.com/recipe/Fruit-Topped-Triple-Chocolate-Pizza-105287... it's also on food.com, so I will give them the credit so no one sues me. lol
These two are my "recipes" so I dont really have a set of directions to follow specifically... here is how I made them though:
2 packages of Pillsbury pizza crust spread out to fill baking sheet... I put olive oil around the outsides to make the crust crispier.
Fried Chicken Cutlets: To make these I bought a package of chicken tenderloins. Dip in egg, then in flour, then back in the egg, and into italian style breadcrumbs. "Fry" in olive oil. Chop into small pieces and top pizza sauce.
Pizza Sauce... I like to add italian seasonings & fresh basil to the sauce to make it tastier.
Mozzarella Cheese: I like to use fresh motz & grate it myself. I think it tastes better than just opening a jar.
**These are pretty healthy... aside from the cheeeeese :D
Clean 5-6 green peppers and boil in a pot of water. I'm not sure of the exact time, but the peppers with go from green to a yellowish green color. When they change that means they are ready to be removed from the water and stuffed
1 small package of turkey burger
2 packages of Uncle Ben's 90-second Sante Fe rice
1 cup or so of fat free pasta sauce
3/4 cup or so of Queso cheese sauce
Mix it all together... if it seems a little dry, add a little more sauce.
Fill each of the peppers with the stuffing and top with cheddar cheese.
Pop in the oven on 350. When the cheese is melted, they're done.