Last night was the first time in a long while that I have gone out to a bar. I guess I'm just getting old. lol. I know, I'm not that old, but I'm over going out every weekend. So with that being said, I think it makes it all the more fun when I actually do go out.
I met my friends "L" and "H" and we had a few beers while we waited for "C" to show up. Just as she got there, we got a call that our cab was there. Our cab driver was the coolest, and had a video screen that he let us make requests on. We'd never been in a cab that we could watch music videos in, so we thought it was the greatest thing ever. The coolness factor of this may or may not have been elevated because of the alcohol already in our systems.
We got to the bar, which is a local line-dancing bar, and had a few more drinks. Since I'm the only one who knows any line dances, I had a hard time convincing any of them to join me on the floor. Either way, we all still had a great time. Around 1am we decided we were over being at the bar, and decided we wanted Waffle House. The only problem was that "L's" bf is a bouncer at the bar, and our DD. He wasnt off until 3am, so we were stuck. We eventually called up the cab company & requested they send our awesome cab driver from earlier in the evening and rocked out to some more music videos.
We got to Waffle House just before it got super busy. After eating a guy approached us and offered to pay our bill if we let him have our booth... SERIOUSLY?!?! We of course let him pay our checks, and gave up our booth. The thing was "L's" bf had asked us to grab him some food. While we were waiting for the food outside, a guy walks up to the cop who was not letting any more people in and tells him he's Petey Pablo. At first we just laughed it off & thought he was trying to get into the building even though they were breaching the fire code. After a quick google search we found out it was indeed Petey Pablo himself and he was there after a Summer Jam concert that took place down town. He smoked a few cigarettes outside & chatted with us. He was sooooo down to earth. He even let us take a few pictures with him, even though they didnt come out great on "H's" camera phone.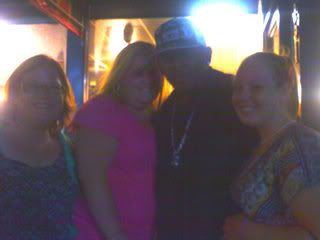 "L", "H", Petey Pablo, and me at Waffle House
Here is my fav Petey Pablo song... it was me & one of my very best friends songs during summer '04
All in all, it was a crazy night, and I was glad that I had decided to go out with my girls.