I am so freaking over this deployment. Steven left last summer and took his R&R in November at Thanksgiving time since I could get some time off work. Since he's only got 2 years active duty, he's a pretty low man on the totem pole. It was either November or June. Thankfully he picked November because May & June leave were cancelled since they were possibly pulling out earlier than expected... Not that we ever actually thought we'd get lucky enough for them to pull out early. It's been 9 freaking months since he's set foot on U.S. soil. Thank God this deployment is almost over because I dont know what to say anymore when he tells me he just wants to come home already.
His tuff box is home & his welcome home banner is here... We're in the home stretch now :)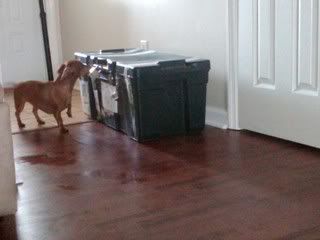 Miley went nuts because it smelled like daddy
I didnt like any of the templates they had on the site for welcome home banners, but it was really easy to take everything off and make it my own. I think it came out pretty decent...
http://www.buildasign.com/Troops