...BUT, hubs didn't have to go to airborne school after all. We drove all over the place getting his packing list together like I had said in the last post, and while we were out he got a call from Toyota stating that they would really like to put him in a new truck, and that they'd get him a good deal... and while this sounded like a load of crap, we figured we'd check it out. (I'll let you in on a little secret... hubs bought a Cadillac Deville right out of AIT with 18% APR because he's not the smartest when it comes to money/credit, so I was jumping for joy at the thought of getting rid of that car!!)
Of course he picked out the 47K lifted Tundra... of course! I flat out told him if he could keep his payments under $____ then he could have it (which of course that sales lady managed to do)... well come to find out that banks do not recognize lift kits when they finance vehicles, so to be able to get that truck, he would have had to put 12K down on it to cover the "improvements." That was a big heck no! So with some number crunching they worked it out so that he could still get rims & all terrain tires included in the price of the truck, just no lift kit. Plus since I have insanely good credit, they had me be the "buyer" and him be the "co-signer" so that we'll only have to pat 4.74% APR. GO ME :D Now he is the VERY proud owner of a 2010 Toyota Tundra... and what does said owner do with his new toy?! Well let me tell you ladies... he gets said 35K truck stuck in a GIANT MUDHOLE.... Typical!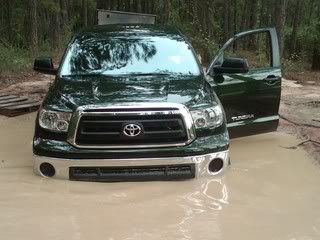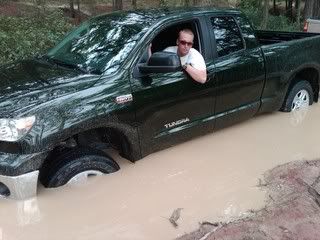 (**Here is the pretty new truck trapped in the mud up to the doors... I of course had to jump out the WINDOW & document this, so I could rub it in his face later. He wouldnt let me post these pics on facebook & embarrass him, so I am posting it here for all of my bloggy friends to be able to laugh at! If your truck/car is ever stuck in a mud hole, remember to NOT turn off the engine... if you do it will get waterlocked & you will need to buy a new one!!)
Thankfully there was a guy with a Tacoma (a much smaller toyota truck) fishing a few yards down the road, so he came to our rescue, and after the two of them dug a drainage ditch to get some of the water out, we realized that the frame of the truck was hung up on the dirt b/c the tracks were so deep, and his tires were aimlessly spinning. Ughhh!! With a lot of yanking by the nice man & his Tacoma, we finally got the truck out of the hole, and it has it's first official dent! grrrr...
We then proceeded to spend the weekend up each others butts & with some of his battle buddies, since it was the first without Satan being here... The rest of this week has been busy, busy with meeting with my friend Crystal (who needs more followers, add her so you can see her B-E-A-U-TIFUL pictures... including one of yours truly, well my legs at least, in a polka-dotted dress!) @ Perfectly Imperfect & trying to run errands. This is my LAST OFFICIAL WEEK of summer vacation. I feel sad that I wished it all away wanting Steven home, but I'm glad he's home, even if it means I have to go back to work. It's going to be another eventful year, as always, so stay tuned for some 5th grade shenanigans coming soon!
My lovely friend Crystal's Photography Blog that ya'll should all add!!