Friday: I left school as soon as the kids were on the bus & I came home to the air-condition repair man at my house. Since we bought the house in April, we've been having problems with our air conditioner, mostly because the people before us installed a $200 digital touch-pad thermostat. It was way too high-tech, so I thought that I just didnt know how to use it. Hubs gets home from the sandbox, and he starts clicking away on it. No use... it was still 80 inside the house when the screen was set at 65. So we finally broke down & called One Republic since the previous homeowners bought us a 1-yr home warranty as part of the selling package. For $55 we got 2 house calls, and a new thermostat that actually works. Yay for home warrantees :)
I showered & we were off to the Craig Morgan concert which was FREE for anyone on Pope Airforce Base since Craig was stationed here at Ft Bragg while he was in the service. The concert was awesome, and I had a great time with the hubs & my friend Jamie. One of the hubs friends had gotten there early, so we sat up with him, less than 5 yds from the stage! We danced to the songs, and he ended with my favorite song that he sings: International Harvester.
This is Craig Morgan (right) and his bass player (formally of ACDC)
After the concert, we went to The Cadillac Ranch, a local country bar. We did a little line dancing, and my hubs proceeded to invite a whole bunch of his friends over to the house for a bonfire after. We stopped at Walmart to picked up some steak & chicken so the boys could have some after-bar munchies on the grill & proceeded to sit around the fire at our house until 6am.
Saturday: We obviously slept late since we were up all night. When we finally did get up, we went to the outlets to do a little shopping. Incase I havent mentioned it (or you didnt guess this already from this post) I am a total country girl. I grew up in the middle of no where in upstate NY, and the same goes for my husband in Central, MI. Even though we're both Yankees, we like to say that we were born in the wrong part of the country, since we're total Rednecks. lol. Anyway, we went to the outlets b/c they have a few country stores up there, and my hubby needed a new band for his cowboy hat since he broke his at the Craig Morgan concert. We both ended up spending a ton of money, but got lots of great stuff... including 2 new pairs of cowboy boots for me :D I'm obsessed with Laredo boots (they're all I'll wear) and they had them for $20-$60 less than you normally find them, so I thought that justified getting two pairs ;).
After the outlets, we went to a BBQ that a woman I work with was having. Even though everyone was almost 10 years older than us, we both had a blast. It was the first time my hubs has met most of those people & I didnt even see him most of the time we were there. He was off drinking & talking Army with the guys. He even taught them how to play beer pong. It was pretty hysterical how serious they were.
Sunday: We cleaned the whole house together, which felt great since the dust bunnies were getting out of control. Then we went to "the rodeo." I put it in quotes because it's not what most people would consider a rodeo, but they have open bull-riding on Sundays, so we like to go watch. For $10 you can ride 1 bull, or $20 gets you 3 bulls. Sometimes my hubs will ride a few bulls, but since he's going to Airborne School soon, he didnt want to chance getting hurt. We stopped by another bar on the way home so the hubs could have a few drinks with his friend, who happens to be the rodeo clown, and the friend we went to Craig Morgan with. I couldn't stay out late though, since I had to work on Monday, so we left by 10:30.
A few pics from the rodeo: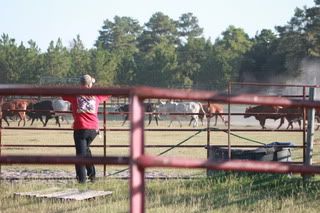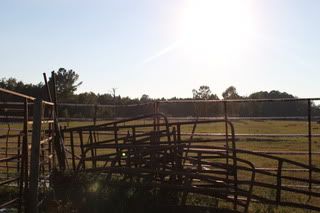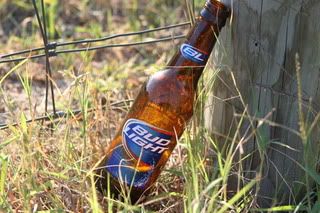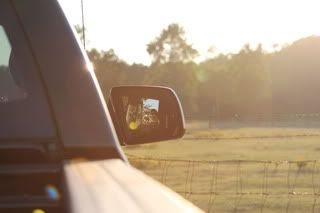 This one is my favorite... The sunlight is perfect. I wish blogger/photobucket did it any justice, but they don't :(