I just got home from spending a few hours out in Red Springs with my horses. I love those two to pieces. The hubby's friend comes with me every Sunday to help me out with them in case he's not home so I am not out there with them alone. Horses are pretty, but they can be a handful, and being with them alone is not something I want to do. Austin took the harness off Illusion to switch it out to the new one we got her because the old one had stretched out to the point where she could take it off. Well, she took that as her cue to take off running as far & as fast as she could. It was hysterical. She kept coming over to me to hid her head, and as soon as he got near her with the harness, she booked it. I love to watch her run. She may be 21, but she sure has a lot of life left in her. Then the paint would get in between Illusion and Austin so the he couldnt get near her. They're such brats!
I was so excited to see how much weight Illusion has put on. When we got her, her ribs were so much more pronounced, and her hip bones jutted out really far. She is putting on weight fast, which makes me super happy. I'm really glad that we could give them a good home away from the rescue. I already am so in love with those 2 it's not even funny. Every time they come up & rub their big heads on me, I melt.
We brought out hay & treats, which made for some very happy horsies!
Circling the truck looking b/c they smell all the yummies in the bed
Trotting away from Austin & the harness
Nummy Hay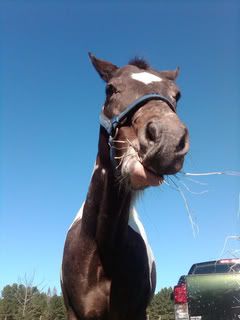 I love this one!
Austin chasing Illusion :)
Getting fatter! Yay!!
Here is Illusion when we first got her... see the difference?!?!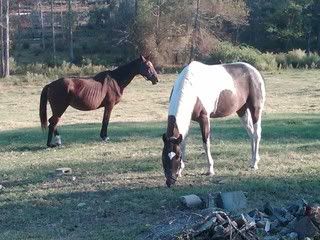 Look at how much her ribs, hips, and shoulders jutted out! Poor baby!! :(