First, I want to say hello to my 3 new followers... Every time my number goes up even just 1 I get excited. It makes me feel less like I am talking to myself. lol. Thankfully I get enough comments to know that I am no just rambling into cyberspace. I'd like to remind some of you to change your options so that I can reply to your comments via email. That way I know you are getting my responses, so I don't feel rude for not showing love back :)
As I've said before, I like to read blogs from start to finish. I feel cheated if I jump in in the middle of your blogs b/c I don't always know what's going on since you've explained things in previous blogs... so I go to your very first post, and start reading towards your most recent. I am slowly but surely reading all of the blogs I am following, although I keep finding more great blogs all the time, so I don't know if I will ever catch up, but it sure is fun trying! Anywho, here are my most recent accomplishments.
Katie's blog is the one I have just finished reading. I love hers because she works with kiddos like me, and I am pretty sure we are at the same Army post :)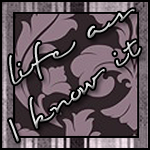 Hop on over & tell Delainey congrats, she's newly engaged her marine :)
Breanne has the cutest kiddos, and is a fellow Army SO, so of course I love reading her blog!
http://kaylasue3.blogspot.com/
Love love love the photographs on this blog. She's a fellow canon lover like me, and she's got the cutest little boy! I wish I had more time to get my canon out :(
http://welcometoourreality.blogspot.com/
One of my favorites to read!! Plus, Jennifer is awesome about commenting on your blogs. I love getting bloggy love from her :)
On to business... This week has flown by! Goodbye October, hello November! Steven will be home next friday (fingers crossed) if the weather holds out & they get their 5 jumps in. His grandparents will be here sometime this week, and they are staying until Tuesday(ish). I am super excited b/c his grandparents are a riot, and I love their company. Plus, with him being gone, my nights have been pretty lonely, and it will be great to be able to talk to someone besides my dogs when I get home from work. lol.
I think I'm going to take this weekend to be lazzzzy! Well, at least today. I've been pretty goo about keeping up on the cleaning during the week, so I really don't need to spend my whole day doing house work, and it is FINALLY chilly! During the week it was nearly 90 degrees here, but today I have the windows open and my toes are freezing! I really hope this chilly weather sticks around this time & I can start breaking out the extra blankets. Right now I am cozied up underneath one listening to CMT & I am loving it.
I do have a few things I have to do this weekend though, but all of them are fun!! I am (hopefully) finally meeting up with my lovely friend Crystal to get my picture CD from her. She took some oh-so-amazing photos of me & the hubster. I can not wait to go and get some printed to hang up in our bedroom. That is the one room in our house that is definitely not finished being decorated. All of my other rooms have a theme, but when I got to that room I was burnt out.
I am also supposed to be going to another haunted house with some of the friends from my old school. As I said in my last post, I looooove haunted houses! Plus, I will get to see some of my friends from the school I used to work at. Although I would never want to leave my new school, I still miss some of the teachers from my old one.
And last, but certainly not least, is my horsie day. lol. Sunday has become my day to go out and visit the horses. The awesome guy we have them boarded with doesnt work Sundays, so I can chit-chat with him about how they've been, and visit with my newest loves. He told me I could come over whenever, even if he wasnt around, but I like to get my weekly updates. I could not ask for a better person to be boarding our horses with. He charges us next to nothing (and horses are A LOT of work) and he takes really good care of them. Plus, he has 2 horses in the same pasture, so they have more horsie friends to keep them company.
Alright bloggie friends, I am itching to read more of your blogs, so I will leave you with some pictures of all 5 of my furbabes, and a few of the pictures my friend Crystal took that I am dying to get from her :)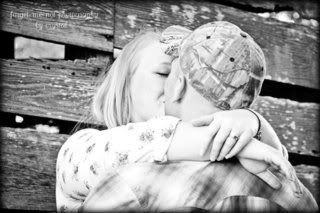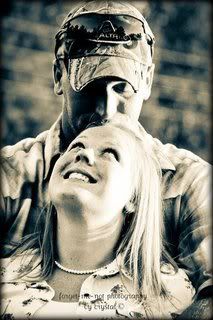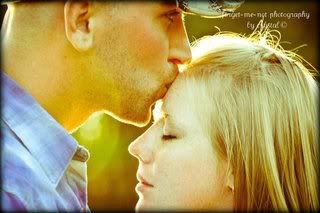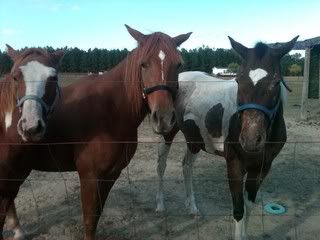 My pretty paint with her two new buddies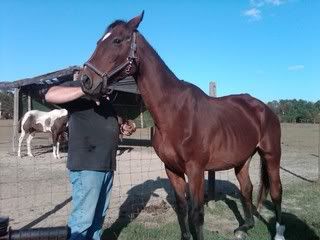 Illusion getting her hair brushed... She's already putting weight on :)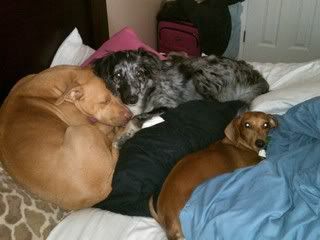 Enjoying the fact that daddy is gone & taking over his side of the bed!