Healthy Choice BLT's with a side of "spaghetti"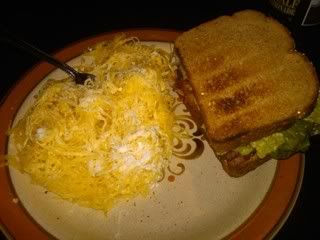 Healthy substitutions:
Whole wheat bread instead of white bread
Romaine lettuce or spinach instead of iceberg lettuce
*Iceberg lettuce pretty much has no nutritional value-it's all water & no healthy vitamins!
Light Mayo
Low sodium or turkey bacon instead of regular bacon
On the side is SPAGHETTI SQUASH!! :) I love spaghetti squash, but I figured it was going to be a hard sell to get my hubby to eat it, since it's a vegetable & all. Thankfully, he LOVES it! It's a really easy side dish to make too. All I do it cut the squash in half & scoop out the little bit of seeds in the very center. Then, I place it face down on a glass plate with a little bit of water on it. 10 minutes in the microwave & it's cooked.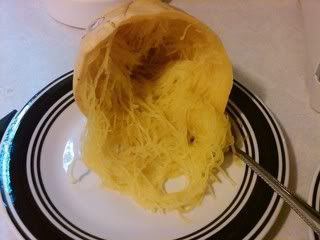 Once it's cooled down a little bit, take a spoon and scoop out the rest of the squash. Now that it's cooked it will come out in little strings that look like spaghetti noodles. I spray it with some "I can't believe it's not butter" spray, and sprinkle a little reduced fat parmesan cheese on top. It's DELISH!