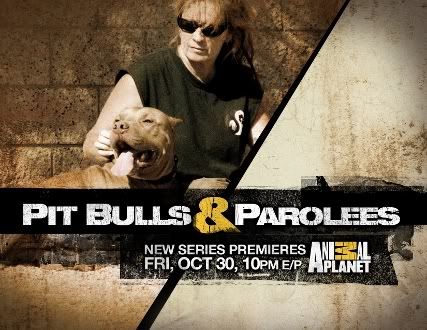 I promise this will be my last post for today (I only have to wait 40 more minutes until today is over. he he) but my reality TV addiction has been on for the past 2 hours, so I can't sleep yet. I am 100% addicted to Pitbulls & Parolees! I watch the same episodes over & over again... and sob my eyes every time a dog is rescued/adopted out.
Rescue dogs in general get me, but the fact that these are pitbulls that are getting a second chance is amazing. I want to donate all of my time & money to her cause. Hopefully this show will show more & more people that pitbulls are only vicious if you make them that way.
I make Dixie (my pit) watch the show with me every time it's on, and I love when she cocks her big giant pitbull head to the side when the dogs on the show start barking. She's the biggest love-bug EVER!