... I'm addicted to tattoos, but shhhhh, don't tell!
If money was no object, I would probably have more than I have now. Plus, being a teacher kind of limits my being able to cover myself in them. I have 5 right now, but I am sure I will have many more once I get my car paid off & I have an extra $400/month :)
Here they are:
My First: "Tramp Stamp"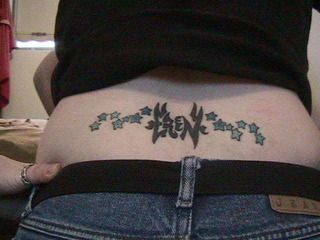 It says my name (Erin)... I got this one the day before my 18th birthday. I eventually got the stars recolored to blend in with my starry night tattoo (Number 3)
My Second: Left Ankle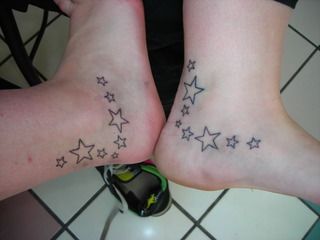 My ankle is on the right... I got this one when I was 19 or 20 with my best friend at the time. Two years later we got in a huge fight because she moved down here to NC with me and never paid rent. We didnt talk for really long time. Then, one of our good friends passed away & we ended up going out and getting sh*tfaced after his wake on Jack Daniels (his fav) and that was pretty much the end of our fight.
My Third: Left Rib Cage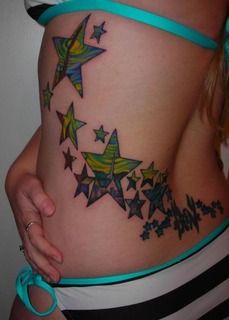 I've been obsessed with Van Gogh & Starry Night for as long as I can remember. I had the tattoo artist take the actual painting & trace it in the center of the stars. It will forever be my favorite piece of ink because it came out absolutely amazing.
Here's a close up: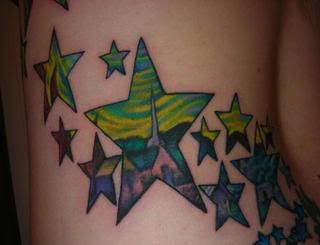 My Fourth: Right lower back to right hip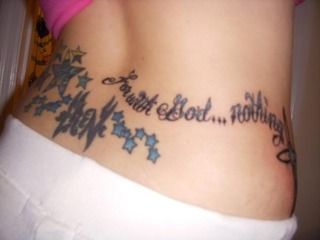 It starts on my back...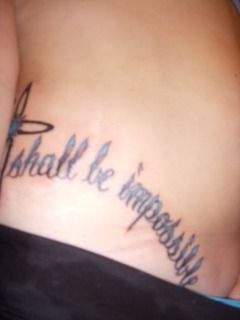 ...and winds around to my right hip!
It says "For with God... Nothing shall be impossible"
My Fifth: Right Rib Cage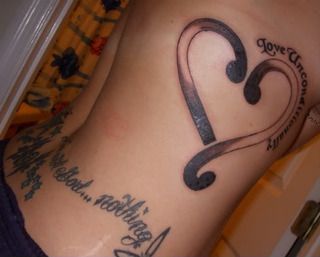 Here is what it looked like when I first got it done... awful, I know. This is what happens when you're impatient & walk into a shop looking to get a tattoo that day. NEVER AGAIN.
Here it is after Frank (the artist who did my starry night stars) fixed it: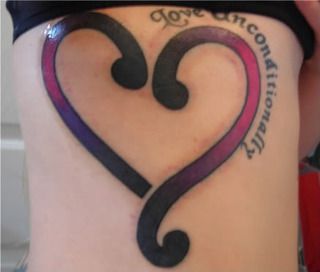 So much better! If you look closely, you can see the bruising all the way around the heart... I'm not going to lie, both my rib pieces have been by far more painful than anything else I've experienced. The tattoo gun hits your bone & literally rattles your ribs until you can't breathe!
What tattoos do you have? Post them on your blog then go on over to The Daisy Approach & link up.
She's got a straight-up way of writing her blog that I love... but beware, she's a little on the risque side... but in a good way ;)