Although I love all of the yummy things this time of year, I can feel my arteries screaming as they get clogged with holiday goodness. Today at school, a few of us got our classes together and made
these super cute Christmas Trees
and thankfully I was able to refrain from eating any of the sugary goodness.
I stopped at the grocery store to pick up some "decorations" yesterday for those pretty little trees and ended up finding this: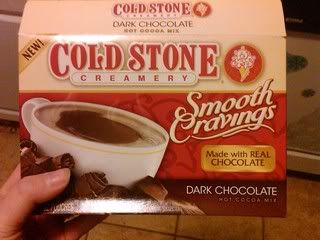 Yes, it's every bit as delicious as you would expect it to be.
Tonight, I came home to find a rather large styrofoam cooler on my porch. Upon further inspections, I discovered that my mother had sent me a lovely gift box from Omaha Steaks Inc. If you enjoy steak, and you've never had an Omaha Steak, then you are missing out! They are amazing. Hands down one of the best steaks I've ever had. My aunts live in NE, and one of them sent them to us for Christmas a few years back, that's how we got hooked. I got the variety pack with all of this yummy goodness included: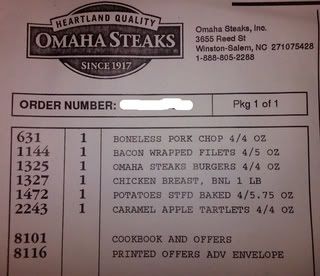 Thankfully the hubster will not be home until the end of the week, and my mom stressed the fact that the contents of the box was a present for BOTH of us, to keep me from cooking up something delicious tonight. After 3 weeks of busting his but at school and living on nothing but icky Army food, I'm betting he's going to be super happy to be able eat like a king this weekend.
With Christmas partieSSS at school this week, Christmas dinner, and the almost certain list-long amount of restaurants I will be indulging in when my parents arrive in a few weeks, I am in some serious trouble. I think this may be the first year that I actually make a New Years resolution to lose weight, AND STICK TO IT! lol