Wish you and your family a merry Christmas, and a happy holiday season :)
We did our Christmas yesterday since the hubster lucked out with 24hr staff duty starting at 9am this morning. However unlucky that was, I considered myself pretty lucky when I was awoken with a kiss by the hubster in his Class A's... YUM!! They're making them wear them for the first few hrs today to make them look all spiffy. I was definitely pleasantly surprised by that this morning :)
Christmas was pretty low key for us this year. In 2010 we've purchased:
-A house
-A Toyota Tundra
-1 dog (making 3)
-2 horses
-10 acres of land
Needless to say, we didnt want to go crazy with presents, since we've gotten so much together this year. Thankfully, my car will be almost paid off my next Christmas, and our 10 acres of property will be paid off by the following Christmas.
I got the hubster a tool box for his truck since he's been wanting one to keep his Army gear in, camo seat covers, and bunch of other fun little things. He got me a gorgeous horse shoe necklace from Kays (I will post a pic later) another pretty black and white sapphire necklace, and some other goodies. All in all, I think it was a great first Christmas together :)
We enjoyed a yummy dinner together, and I sent him to work with all of the leftovers.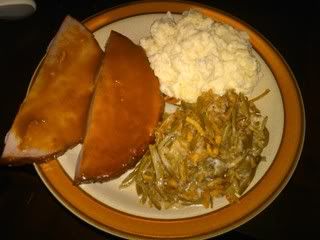 Brown sugar glazed ham, mashed cauliflower & green bean casserole
Now, onto business. For those of you who are visiting family this holiday season, and may have forgotten to get someone a gift, I have a SUPER easy fudge recipe for you that is ready in about an hour. Stop by Walmart (since it never closes) and pick up the following. An 11.5oz bag of Choc. Chips, bakers chocolate, vanilla, and a can of sweetened, condensed milk. Thats it!!
In a saucepan, melt the chocolate chips & 1 square of bakers chocolate on medium heat.
When choc. is melted, stir in the can of condensed milk and 1 tsp of vanilla.
Mix.
Pour into a baking dish (I foil-lined mine & sprayed with pam for easy clean up)
Stick in the fridge for about an hour
Enjoy :)
Thats it! So easy, and turns out delish! I made 4 batches (2 with heath toffee, one regular, and one with peanut butter/chocolate chips. I have 2 amazing friends who have invited me to dinner today so I wasnt all alone, so I wanted something yummy to share with them.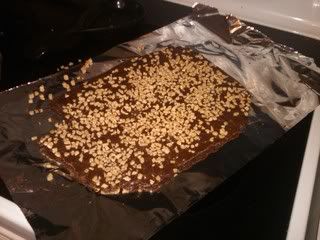 Sprinkled with toffee chips
PS. My parents arrive tomorrow :D