...but I can save some!
I know I posted a really depressing post about the poor puppies I saw on my road. I have since searched up and down the road numerous times and have yet to see the other one. I'm hoping someone picked the other one up, because they were really cute. My mom pointed out that they were really well fed for being strays, so I'm also hoping whoever owns them, found the remaining pup. I'm still going to keep my eyes peeled for it.
So since I posted that depressing post, I thought I would post an uplifting post. All of my animals have been "rescued" in some way, shape, or form. I found Miley, our dachshund at a dirty little petshop here. People would drop off litters of puppies, and the pet shop would sell them. Not like the mall petshops that have a number of different breeds in individual cages. This one only had two litters, the dachshunds & some sort of husky mix. I was asking the lady questions & she said something to the affect of, "Well, if you want one, get it now. Pay day is tomorrow & thats when people come in and get puppies." It wasn't the first or the fifteenth, so she wasn't talking about Army families. She's talking about people who get paid weekly. If you have to wait until payday to buy a puppy (she priced them WAY below what they cost at a traditional petstore) then you don't need to get a dog... and judging by the patrons that were in the store at the present time, I wasn't making any unjust judgments. Not being able to leave her for the toothless woman also eyeing her, I snatched her up, and convinced my friend to take her brother.
Dixie, our pit, came from a friend-of-a-friend situation. We stopped over his house after the rodeo one night, and his roommate had 2 pits left from their litter. They bragged about how they had taught the mother to bite people with guns. He came out with a pistol & we watched the mom turn ferocious & attack him, the dog's owner. This is why people are afraid of pitbulls. It's not the pitbull, it's the owner!! We took her home that night, rather than letting them turn her into a monster as well.
Ty came from a student in my class last year. Her mom has a soft spot for dogs as well. At the time that she let me adopt Ty, she had 17 dogs in her 3 bedroom house. She gets tips from people & adopts dogs out of shelters that are going to be put-down. Ty & his 3 brothers were dropped off at a shelter at 4 weeks old, and were supposed to be gassed when she came to adopt them all. Then, she trains them (she's also a certified dog trainer), and adopts them out. Everyone is amazed that we adopted such a well-behaved dog, and I promptly refer them to her.
This past fall we rescued our two horses from a horse-rescue here. I had initially wanted a paint, but when we arrived there, I fell in love with the swedish warmblood, not the paint. Don't get me wrong, I love our paint, but I wanted the other one more. The hubs, his friends, and the rescue owner, promptly convinced me that I wanted the paint, rather than the swedish warmblood b/c the paint is 5yo, and the other was 21yo. I didn't care how old she was, she came up to me as soon as I was in the pen & nuzzled me. It was love at first sight. When we came back the next day, the man had decided that we could take both for the $400 adoption fee, since he figured that he wouldnt be able to "get rid of" the older one. Gee thanks dude. We later found our that Illusion, the sweedish warmblood has champion bloodlines :) Both were dumped off there when their owner PCS'd and didnt want to take them along. Dicks!
Wow, this post ended up being kind of depressing with who we acquired our animals from, but the point is, I can't save them all, but I can save some animals... even if it is only a few at a time.
I've posted this picture a few times, but its from the day we adopted them, so it's a good point of reference... Look at how boney Illusion was 4 months ago... She looks like such a skeleton!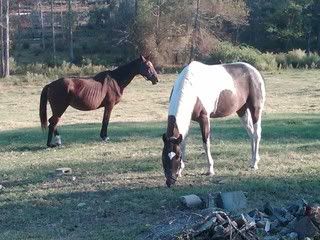 And look at her today!! Such a fatty! Look at that big ole belly! It makes me so happy to see how much weight we've gotten on her. She doesnt even look like the same horse we loaded up a few month ago.