Friday was an AWESOME day at work. It was one of those days when it makes the crappy pay, long hours, and paperwork all worth it!!
In the morning I overheard one of my students saying "I want to be a teacher when I grow up. I'm going to be just like Mrs. _________" It totally melted my heart. Especially b/c he's one of my lowest students. He had a really rough year last year with a teacher who didn't really care for him... so he wasn't getting the help he needed. He's doing SOOO much better this year, and I feel beyond proud that it's because I'm motivating him to do his best.
On Friday afternoons we have clubs. I immediately decided I wanted to run the science club, because it's my all time favorite subject. Last year, I had more kids pass the science End Of Grade Test than any of the other classes (including the academically gifted class!!) This past Friday we made elephant toothpaste. If any of my readers have kids who like science, this is a super fun experiment, and it was pretty cheap too. You can go
HERE
to watch the video and get instructions.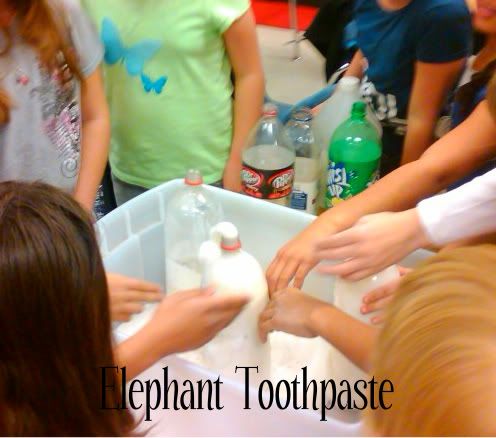 They're touching it b/c it's an exothermic reaction, so it gives off heat!!
And the SURPRISE!! How many of ya'll have watched those videos on facebook where the deployed family member comes home & surprises someone? Well I got to see it first hand! All week D_____ has been telling me that his dad can't get on Skype any more because he's switching bases. He was sad because he wouldnt be able to see him anymore, just talk on the phone. Well during clubs mom came in looking for him. When he saw his dad, he immediately started sobbing. It was so sad, but so amazing to be a part of. He really had no idea that his dad was coming home!!