I promise I've got two recipe posts, and a decor post coming up, but I can't seem to find the little do-dad that plugs in for me to upload pictures. I'm tempted to just go buy a new one.
In the meantime, I'm linking up with Holly for the first time to do this fun little finish the sentence link up party.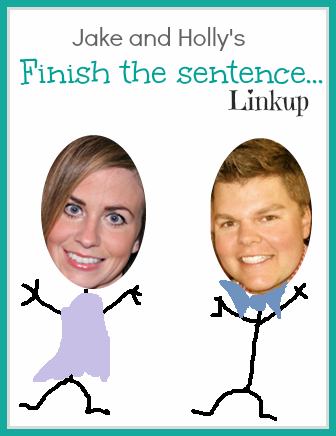 If I had one extra hour in the day... oh geeze. So many things. With a little bit running around like a tornado, I feel like I clean the same mess 10 times and never have any time to do anything else.

I wish my [last] name... wasn't the same as a famous president's. I've loved the name Reghan for a girl for ages, but didn't want to subject my little one to sharing her name with two presidents, even if its not spelled the same... maybe if our next little one ends up being a girl I might reconsider.

I think anything chevron is... cute, but not really my taste. We're both country folk, and our house is decorated accordingly.

My last nightmare... I dont remember what it was, but I remember thinking to myself that I'd had it before, and knew it was a dream, so I was able to wake myself up. Way to go subconscious!

Sometimes... I want to go back to work so that I could pee without someone banging on the door

My last meal on earth would be... seafood.

I would much rather... have no tv than be subjected to the crap my husband watches.

Mayonnaise... is yummy, but I dont eat it too often. Since I stopped eating commercially harvested meats, I haven't had any sandwiches.

10 years ago, I didn't think... I'd be living in Alaska!

Selfishly... I'm letting my kiddo run around with no pants on because I don't want to go find the ones she somehow managed to wiggle out of.

My favorite show on TV right now... Big Brother. Although I don't know who I want to like right now, aside from Andy, but I don't think he'll end up winning it :/

And, George Zimmerman... has gotten way too much attention. Yes, it's sad a child died, but it really didnt need to be made into the media circus that it did. Sadly, children are killed all the time, but do they all flood facebook & cause such animosity, no.