I'm linking up
HERE
with Allie for
Unless you've seen me at the beach, you probably haven't seen the majority of my tattoos. I have 5 (three of which kind of combine), 4 of them being on my torso. I chose this location for most of them because by the time I was old enough for tattoos (with a Sept. birthday, I started college at 17) I was already in college to be a teacher, and professors were scaring us with the whole "you'll never get a job if you have tattoos" garbage. Once I actually started teaching, I found that the number of teachers who have tattoos in non-desecrate locations, is rapidly increasing.
Pardon the fact that these aren't great pictures. They're older, but I dont want to go and take new ones, plus these ones are all pre-baby, so I'll show off the ones of my skinnier self. Ha!
Anywho, here they are: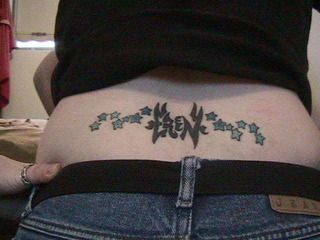 (its centered, my jeans apparently are not)
My first tattoo. I got this the day before I turned 18 since my tattoo artist was booked on my actual birthday, and I wanted her, rather than the crappy ones in my college town. I had to find a weekend I could come home to get squeezed in. 18 with a tramp stamp... Classy, right?!
I don't necessarily regret this tattoo, but I do sometimes wish I hadnt gotten it on my lower back. Its got 14 stars, since I was born on the 14th of September, and my name. My mom likes to joke that it's in case they find me passed out in a ditch. They wont have to flip me over to know who I am. Thanks mom!! The sketch of my name was drawn up on a CD receipt by a former co-worker of mine... who I happened to be madly in love with during the year and a half that we worked together. Sadly, I was 16, and he was 20, so even though he liked me, he wasn't interested in the fact that I was "jail bait." Boo! I did happen to run into him when I was 21 or 22, when we were both home for Thanksgiving, and I got to live out some of my high school dreams of making out with him. Ha!
Eric, me and Julie, another ex-co-worker or ours
I DIDNT get the tattoo for him by any means. When I got it, he had been living in California for a year, and I was dating someone else. I got it because it symbolized a great time in my life. I was a chunky-monkey from about 5th grade until I got this job at the movie theater at 16. I was also really shy, and while everyone liked me because I try to be a really nice person, I didnt have a lot of close friends because I was so quiet. Getting this job, I came out of my shell 100%. I went from a size 14 to a size 4 (by just getting off my butt, not starving myself or anything) and I was so open with everyone there. They became a second family to me, and I will always love the time I spent working there.
My second tattoo: Can you tell I'm slightly obsessed with stars. Keep scrolling, it gets worse. Ha! My best friend at the time and I decided to get these matching tattoos. I was 19 and one of the guys in our brother fraternity was peddling these MTV citi cards. I got approved, even with no job, for like a $500 limit. So of course I NEEDED a new tattoo. 8 stars for 8 years of friendship. Ashley and I were best friends from middle school until I moved to NC. She moved with me and I signed a lease for a 2 bedroom, only to have her move home after about 3 weeks, leaving me with the bill. We didnt speak again for over a year, when our friend Adam died. At the viewing, we just kind of forgot we were mad at each other, and that was that. We're not best friends by any means any more, but we friends. I like to think its because of Adam :)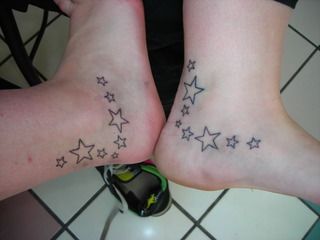 Ashley's and mine
Number 3: My pride and joy. I absolutely love, love, love this tattoo. My artist was amazing, and its everything I could have wanted. Again, it's 14 stars, filled in with Van Gogh's Starry Night. I've been a fan of this since I got to see it in person at MOMA in NYC when I was in 6th grade, but I really grew to love it when I was taking a million art classes in high school. I know there are lots of theories on it, but I love to think it's the one about God watching over the village as they sleep. My favorite part is that he incorporated it into my existing tattoo, making it a little less tramp-stampy. It took 5 hours of straight tattooing (minus one 5 minute cigarette break) and boy did it hurt, but its worth it, a million times over.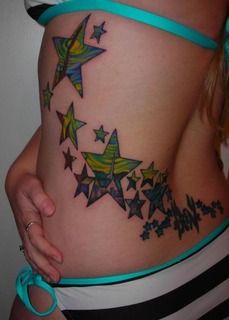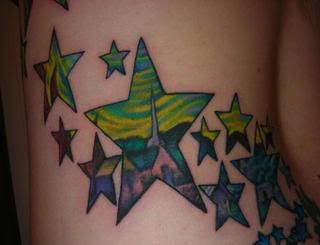 My 4th is from Luke 1:37. There are a couple variations on the wording, depending on what bible you are reading, but I liked this one best. Its just a snippet of when Gabriel came to see Mary and told her she would bare Jesus. It reminds me that God can make miracles happen.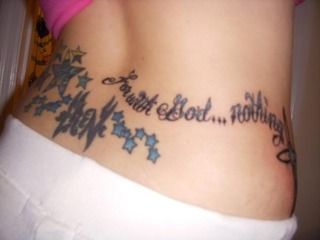 Starts on my back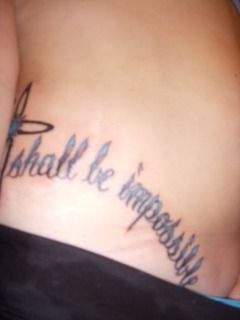 and goes around to my hip bone
My last I got more on a whim. I'd wanted the heart for a while, but added the idea of the wording later. When I decided that I wanted it, I wanted it RIGHT THEN, so I took whatever artist was open, and I was stupid, stupid, stupid. It came out HORRIBLE! He had me take a peek at it when he finished the outlining, and I LOVED it, but when I got up at the end and saw the shading, I wanted to cry. Lesson learned. Always check a tattoo artists portfolio.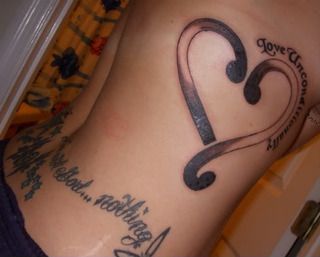 Thankfully, I got in with Frank, who did my Starry Night tattoo, and he fixed it. Now I think it's great. A reminder of my hopeless romantic self, who loved all the "broken" bad boys, who I thought I could save, no matter how awful they were to me. If you look closely, you can see the bruising around the outside of the tattoo. Rib pieces are no joke. It hurts, A LOT! I wont lie to you.
My husband wanted to get a cross and a prayer on his side, but chickened out halfway through the cross, so he got that finished, and the prayer ended up on the back of his leg. lol Puss!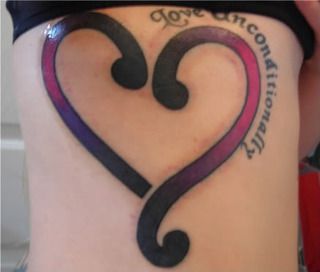 I've got plans for (at least) two more. I want Amelia's name. I either want it in white ink on my wrist, so it's not in your face for future job interviews, or incorporated somehow into my "love unconditionally" tat, because there is nothing like unconditional love between a mamma bear and her cub. I also want to get horse shoe prints for my girls. I miss owning horses, and I can't wait until the hubs gets out of the Army, and we can afford them again.