This year I'm participating in Chambanachik's Christmas Giveaway. Eeek! I'm excited! 1. I think you should follow her because she is super sweet, and her blog posts are heartfelt and amazing. I love the way she talks about her kiddos. 2. You should follow her because you don't want to miss out on all of the amazing giveaways she's got lined up!!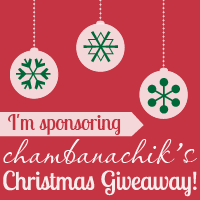 I'm giving away one of these custom applique shirts. You can chose it for yourself, your child, a gift, whatever! You pick the size, color, and applique design. Who doesn't want to win a t-shirt that no one else will be wearing?

My date is December 15th, so make sure you stop on over and enter. I'll try to remind you, but I am back to being a horrible blogger, so I don't know if you can depend on me. Ha!

On another note, I'm crafting until my fingers fall off. I've got 18 days until my first craft fair, so I'm trying to build up a huge inventory, with a wide variety. Beyond overly ambitious, but I'm still trying! I need to stay off pinterest, because every time I get on, I see something new I want to add to my table. I can't wait to tell you all about it! I hope it goes well.

Also, I've got a post coming about a fall swap I did since my lovely swap partner (who was in the midst of moving during the swap) has retrieved her package from her mommas, and I wont ruin the surprise.